The Intelligence of Gate Intercom Systems
08/13/2014
Back To Blog
Sometimes, it's practical to have electric systems outsmart us. The intelligence of gate intercom systems will not only make one's life easier but also more secure. That's exactly what we all expect from our beloved steel gate and new technologies play a crucial role. They are designed to make our access convenient, fast and practical. There are solutions for single home houses, big office enterprises or apartment buildings. There are options in terms of equipment selection and the capacities of each system. You can upgrade them, they are easy to use and can really save you from a lot of trouble.
Access solutions for your property
The prime role of intercom installation is to control who is coming in your property. Parents will find these systems incredibly handy with their kids. Children will not be able to use the gate clicker in order to exit the premises without your permission. When intercoms are combined with keypads, you will have your own personal four digit codes and only you will allow your little ones to exit your property. Do you want to change the code? That happens easily. You can change it as many times as you want. These systems usually give you the possibility of having multiple codes for each member of your family or even temporary ones for your gardener, nanny or postman.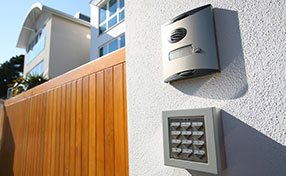 A phone enter system will allow you to use your own phone in the house and you don't have to install a separate line. With only one press of one button, the gate will open giving access to visitors. You can have a colored camera in order to see your visitor or multiple ones so that you can have a wider view of the gate area. In this case, you will need a separate CCTV camera system from the audio intercom one which will have higher resolution for clearer view. Multiple cameras will mean higher security and these systems can also record any activity in the surrounding area. If you are on the go, you can program intercom systems to notify you on your cell of who is standing at the gate. You can still let visitors in!