Gate Opener
Back To Our Services
The best and most experienced gate repair technicians. Available 24/7.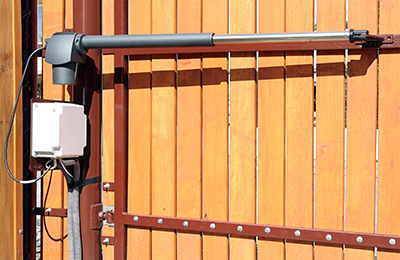 Automatic gates have revolutionized how people protect their homes and businesses. Automatic gates are simple but effective means to deter someone that wants to get into your home. Although it keeps intruders out, it can keep you out too if you do not have your Valencia gate opener. Electronic gate openers are the magic wand that allows all access through your automatic gate. Often people take the controller that they are given by the people that install the automatic gate, but there are many brands and types of gate openers that you may find suit your needs better than others.
Some of the brands that you should consider before you settle for one kind of Valencia gate opener are Ramset, All-o-Matic, BSL, Eagle Gate, Elite, D.K.S, FAAC, and Liftmaster. That is quite a few brands to choose from, so narrowing down will need to be done. You should research on the internet to find what the brands specialize in and how they manufacture their products. You can find information about price, durability, and quality. Well-made gate openers will typically last quite some time so make sure the brand you choose is the brand you want to keep for several years.
There are times where your gate opener may break, and you might think to replace it. There are alternatives to replacing your gate opener. Many places that install and repair gates will also do technical work on you gate opener. Gate opener service will help you to get the gate back to working like it should. Calling a company to help you fix your gate opener might even pay off if the problem is with the gate and not the opener. The gate can be fixed in the same session by the mechanic, saving you time and money. Your Valencia gate opener service will be terrific.
One of the problems with a gate that you might attribute to the opener is motor failure. When the motor cuts out it can look very similar to when the gate does not process the signal from the opener. Calling a technician either way is the only way to get your gate up and running. Sometime the wireless signal is not getting picked up. You could consider a Valencia gate open keypad instead. Gate opener keypads can be installed to open the gate with a passcode, which saves you the effort of trading openers or losing one. Only those with the code can get onto your property.